As a Digitech Systems reseller, 'tis the season to reach out to retailers. With this year's holiday shopping season coming fast but still weeks away, now is a good time to reach out to stores. Whether a neighborhood mom-and-pop shop or a regional or national chain, show retailers how automated content management will help them thrive during their busiest and most stressful time of the year. We're here to help you with updated sales and marketing materials targeting the retail sector.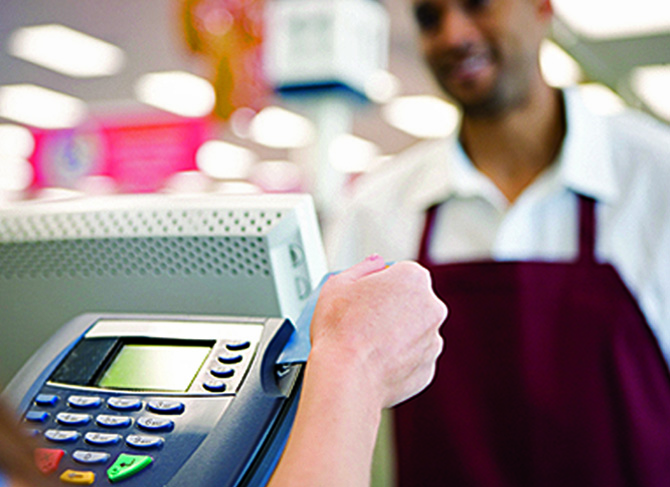 Did you know spending on information technology by retailers is expected to grow by an average of 10.6% per year and reach an estimated $270.5 billion by 2024, according to this report from Gartner.
Retailers' most pressing information technology needs include:
Protecting customer data
Connecting stores through the cloud
Improving business, supply chain and inventory efficiency
Enabling effective remote work
Gaining a competitive advantage
Learn how our Enterprise Content Management products and services meet these needs in our whitepaper, "ECM for Retail: A Seller's Market," available on MyDSI. The report includes a detailed chart that matches a retailer's specific business goal (i.e., share information across multiple locations) with how Digitech Systems products and services meet that need (i.e., single, unified systems with electronic distribution) You'll also find links to case studies to show customers real-world results.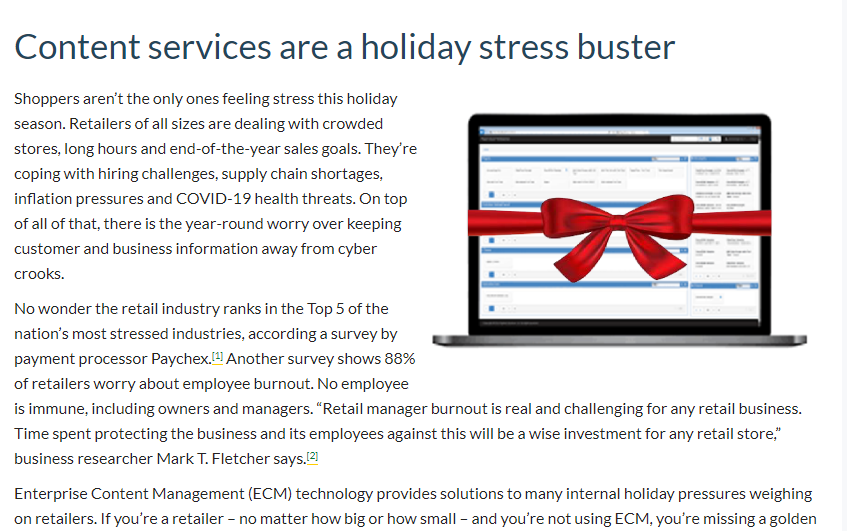 In the Learn section of digitechsystems.com, the blog post "Content services are a holiday stress buster" takes a close look at how ECM helps retailers during their most critical time of year. Share this blog post directly with your customers and prospects or include all or part of the text in your own website blog posts to show customers you understand their needs and the pressures they face.
An excerpt from the blog post:
"Enterprise Content Management (ECM) technology provides solutions to many internal holiday pressures weighing on retailers. If you're a retailer—no matter how big or how small—and you're not using ECM, you're missing a golden chance to reduce stress. The PaperVision® suite of ECM products enables you to:
Free yourself and your employees from pushing paperwork and instead focus on higher-value work such as customer service, inventory management and strategic planning.

Automate the collection, organization and day-to-day management of electronic and digitized print documents, including customer records, correspondence and business data.

Limit access to information to only authorized employees. That's a major benefit in an industry like retail where worker turnover rates are high."
The sales scripts on MyDSI are another valuable tool. They are tailored for each of the retailer job titles you may come across during the buying process: store manager, chief technology officer, chief information officer, franchisee, HR director, IT staff and legal staff. Developed in consultation with John Holland, co-founder of CustomerCentric Selling, these scripts—also known as Solution Development Prompters—make it easy for you and your team to engage in productive visits with retailers of any size. Find the sales scripts by using the keyword search "retail sales scripts" on MyDSI.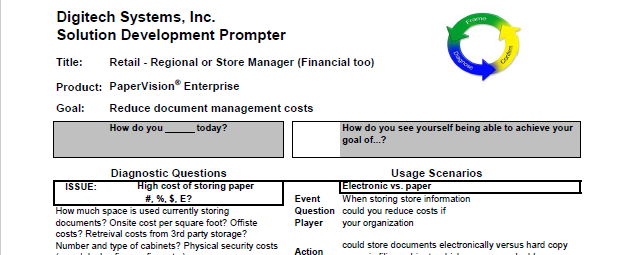 While on MyDSI, take a moment to review our entire collection of sales and marketing materials and tools targeting the retail sector. Many of them are customizable to let you add your company's name and contact information. Among the materials you'll find:
Educational materials. Includes briefs on PCI DSS compliance and general ECM for Retail.

Pre-built and re-brandable advertising campaigns. These advertisements establish your expertise in helping clients achieve the most common goals of improving access to information, reducing costs, and ensuring compliance.

Retail Vertical Market Toolkit. Excellent for training your team on the ins and outs of the retail market, this complete toolkit includes sales scripts identifying key prospects and their likely technology goals and copies of all of our retail marketing materials.

Sales strategies. Understand the security systems behind ImageSilo® and learn how to explain them to prospects in, "10 facts resellers need to know to differentiate ImageSilo."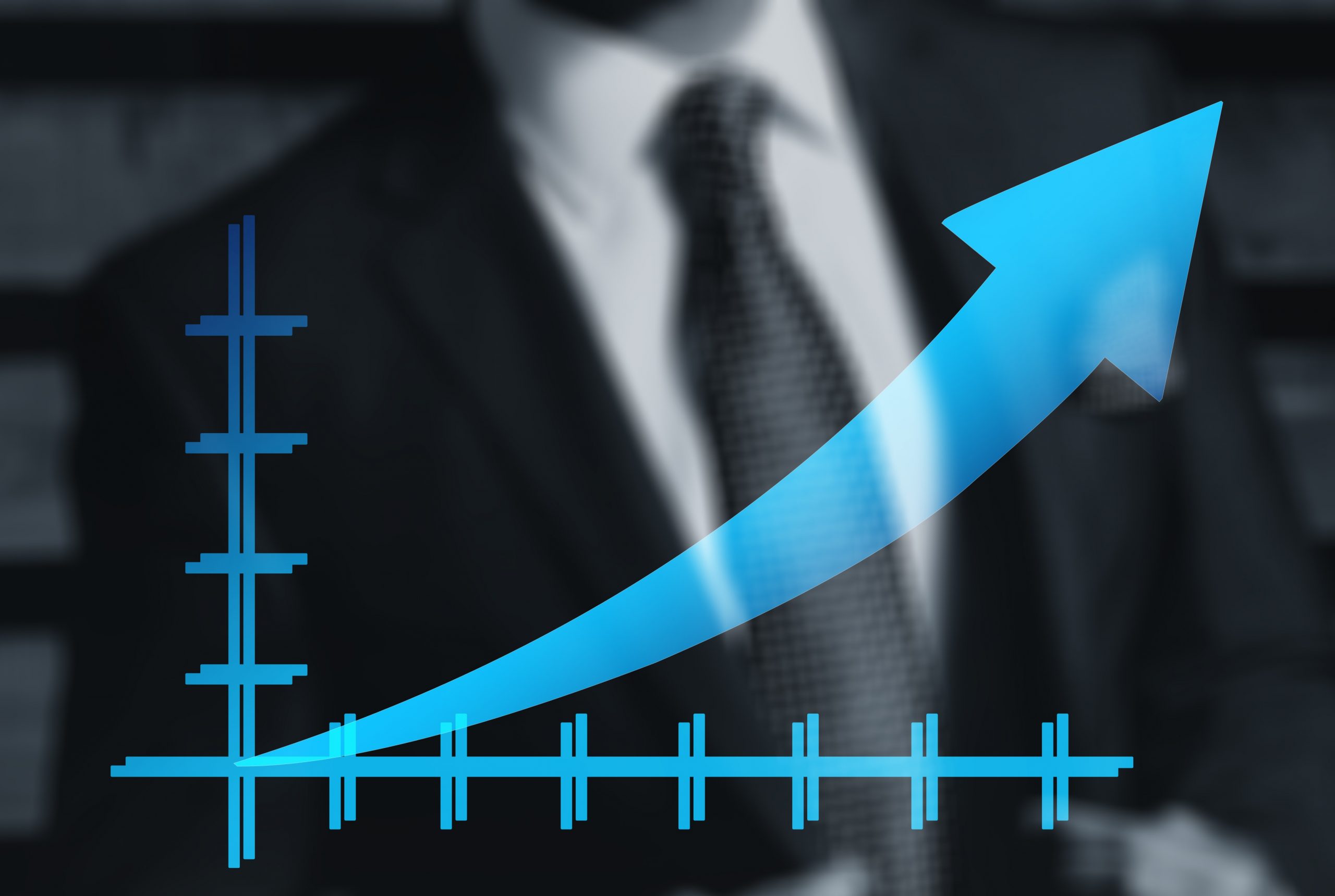 Our sales engineers are available to assist you with demonstrations of products and services. They'll help you match the technology's capabilities with your customer's needs. They're experts at customizing presentations specific to your prospects, improving your chances of winning the business.
In an industry where the customer is king, secure information management is critical and business efficiencies are always in demand, retailers of all sizes are looking for ECM tools to enhance efficiency and customer service, protect and control customer information and security, and reduce costs while passing savings to customers. This holiday season, fulfill their wish list and enjoy a merry end of the year yourself as your sales grow.
---
Digitech Systems Sales and Marketing