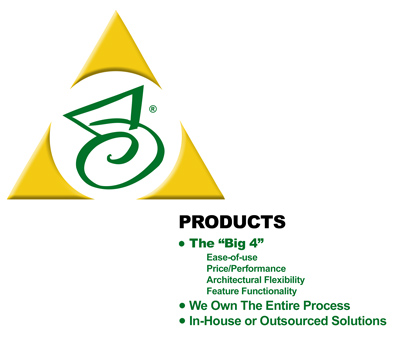 The big four are the competitive, valuable components of every Digitech Systems' product, system, feature, and service. This is a reminder to keep them in mind during every sale, because your current and prospective customers are seeking these components:
Ease-of-Use – We turn the complexity of ECM into a friendly user interface, so when your customers sit down with their product, they won't have a gigantic learning curve.
Price/Performance – A part of our competitive advantage is giving you a very robust product at a fair price for your customers.
Architectural Flexibility – Our products will integrate with any customers' line of business applications and help you leverage customizable robotic process automation.
Feature Functionality – We provide a comprehensive, feature-rich product suite, so you can help your customers build and expand their unique ECM solution without the need for multiple vendors.
We've already covered ease-of-use and price/performance, so let's talk architectural flexibility.
Architectural Flexibility
We design our products to interact well with other products and to scale as a company's needs change.
Our products put few limits on your customer's ability to use them to address virtually any business problem. Setup hundreds of customizable index fields to make finding information with keyword search easy and accurate. Add users as needed, and don't put any caps on the amount of data they can store. We call it bidirectional scalability. Scale up to add storage and users, and scale out across any number of locations.
Today's document management systems must integrate with other line-of-business (LOB) applications. PaperVision® Enterprise and ImageSilo® include APIs and Robotic Process Automation (RPA) to help you easily form these connections. In addition, our Professional Services team stands ready to help you complete integrations with many popular business applications. You never need to lose a sale because you think you can't make the connection a customer requests.
Happy Architectural Flexibility Customers
Sharing success stories and customer testimonials are great ways to explain the credible value of your offers. Check out these real-life case studies and show them to your customers, so they can see just how well Digitech Systems delivers architectural flexibility to satisfy business needs.
"The PaperVision product suite added to how we run our business processes, making things smoother and quicker and allowing secure access to information whenever we need it."

~ Nye Horner, VP Sales & Marketing, Amherst Label
Find the Full Case Study Here!

"We're now a one-stop-shop offering the solutions right from the start. We can take any document and process it in any way the customer wants—through workflows, to other worksteps, and then to other line of business applications. Basically, we can streamline anything!"

~ Colin Thornback, Account Manager, Document Options Ltd
Find the Full Case Study Here!
Digitech Systems' Architectural Flexibility Recognition
Customers also appreciate seeing third-party reviews of the ECM products and services you offer. Check out these analyst reports and use them to add even more credibility to Digitech Systems' architectural flexibility.
Businesses always look for solutions that will allow them to grow without constantly paying for more products along the way, so make sure they know you're selling architectural flexibility in every offer.
"From saving Accounts Payable departments more than $6 per invoice in processing time, to helping records and finance departments stay in compliance with changing industry regulations, to giving organizations back thousands of productive hours every year, Digitech Systems provides software and services that make it easy for you to get any document, anywhere, anytime."

~ Document Strategy, 2019
Find the Digitech Systems Review on Page 9!

"The solution's architecture allows customers to purchase only the functionality they need without paying for bells and whistles that would otherwise go unused. PaperVision can scale from a single location with a few users to multiple locations with a lot of users. The excellent integration capabilities can be used to leverage past or future investments in other line-of-business applications."

~ Buyers Lab, 2019
Find the Full Report Here!
Don't miss the last message in this series: Feature Functionality—coming in Q3!