The big four are the competitive, valuable components of every DigitechSystems' product, system, feature, and service. This is a reminder to keep them in mind during every sale, because your current and prospective customers are seeking these components: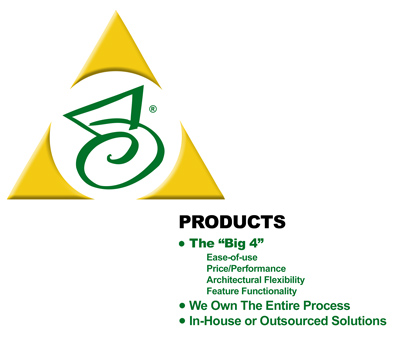 Ease-of-Use — We turn the complexity of ECM into a friendly user interface,so when your customers sit down with their product, they won't have a gigantic learning curve.
Price/Performance — A part of our competitive advantage is giving you a very robust product at a fair price for your customers.
Architectural Flexibility — Our products will integrate with any customers' line of business applications and help you leverage customizable robotic process automation.
Feature Functionality — We provide a comprehensive, feature-rich product suite, so you can help your customers build and expand their unique ECM solution without the need for multiple vendors.
Let's Review Price/Performance
We aren't trying to be the cheapest product on the market, just the most valuable.
The first two things that ECM customers consider are: "Is it budget friendly, and is it easy to implement and use." Luckily, as a Digitech Systems reseller, you're able to answer both of those questions with YES. A part of our competitive advantage is giving you a very robust product at a fair price for your customers. Our CEO, HK Bain, explains this best in our Big Four video.
We are a value-based company, meaning we are passionate about what we do, and believe our stakeholders and their customers should receive quality, high-performing products and services at a fair price. It's that simple.
While most ECM products offer either cheap solutions with cheap quality, or over-the-top expensive solutions where you pay for more than what you need, Digitech Systems products and services marry quality and value.
Happy Price/Performance Customers
Sharing success stories and customer testimonials are great ways to explain the credible value of your offers. Check out these real-life case studies and show them to your customers, so they can see just how easy-to-use Digitech Systems' products are.
"Our clients do not need other third-party implementations—PaperVision® is truly a complete suite and the key benefit is you don't have to invest in the entire suite. It's never an over-investment, because you can scale the solution to fit any enterprise need."

~ David Katusa, Owner, ARK MPS
Find the Full Case Study Here!

"I just now opened ImageSilo® on my phone, typed in a ticket number, and now I can see everything about that order, including emails with the related customer. That took less than a minute. This is powerful information without having to serach for and go through physical files. The flexibility we offer is what differentiates us from all competitors, and ImageSilo helped us maintain that service."

~ Nye Horner, VP Sales and Marketing, Amherst Label
Find the Full Case Study Here!
Digitech Systems' Price/Performance Recognition
Customers also appreciate seeing third-party reviews of the ECM products and services you offer. Check out these analyst reports and use them to add even more credibility to Digitech Systems' price/performance.
"Investing in content management returns $8.55 in benefits per dollar spent. The key value drivers for these solutions are increased user productivity and cost savings from redeployed staff or avoided additional hires."

~ Daniel Elman, Nucleus Research, 2019
Find the Full Nucleus Research Report Here!
"By reinventing Enterprise Content Mangement (ECM) as a simple, accessible and cost-effective system anyone can easily use, Digitech Systems' suite of ECM products immediately provides the ability to improve efficiency, boost control, and save money."

~ Document Strategy, 2019
Find the Press Release and Full Report Here!
Businesses always look for products that will give them a competitive advantage, while staying on budget, so make sure they know you're selling a price/performance balance in every offer.
Stay tuned for "Architectural Flexibility!" Over the next few quarters, we'll dive into each one of these big four, providing tips, and real-life examples of how these components have successfully helped customers and increased reseller sales across the nation. The quality of our products is worth the price because of the architectural flexibility that our products allow.