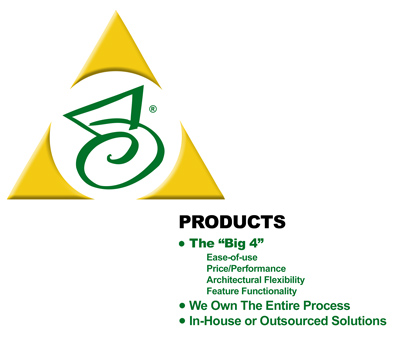 The big four are the competitive, valuable components of every Digitech Systems' product, system, feature, and service. This is a reminder to keep them in mind during every sale, because your current and prospective customers are seeking these components:
Ease-of-Use—We turn the complexity of ECM into a friendly user interface, so when your customers sit down with their product, they won't have a gigantic learning curve.

Price/Performance—A part of our competitive advantage is giving you a very robust product at a fair price for your customers.

Architectural Flexibility—Our products will integrate with any customers' line of business applications and help you leverage customizable robotic process automation.

Feature Functionality—We provide a comprehensive, feature-rich product suite, so you can help your customers build and expand their unique ECM solution without the need for multiple vendors.
We've already covered ease-of-use, price/performance and architectural flexibility, so let's talk feature functionality.
We provide a comprehensive, feature-rich product suite.
As the only complete document management suite in the marketplace, Digitech Systems holds a unique position. We can solve many business information problems without requiring you to cobble together technologies from many different companies. From capture and forms processing to secure storage and retrieval you can assist at any stage of the product lifecycle. In addition, our workflow and robotic process automation (RPA) technologies enable you to automate virtually any process. Our products are architected to work flawlessly together, so there's no confusion or finger pointing when a problem needs to be solved—just answers.
Why is one vendor so important to your customers? Click here to learn more.
Sharing success stories and customer testimonials are great ways to explain the credible value of your offers. Check out these real-life case studies and show them to your customers, so they can see just how well Digitech Systems delivers architectural flexibility to satisfy business needs.
"Digitech Systems offered the only comprehensive Enterprise Content Management (ECM) solution that would allow us to go paperless at a fair price-point."

~Stefanie Evans, Staff Accountant, GPC Contracting,
Find the Full Case Study Here!
"This solution changed everything we do—ImageSilo® has everything we didn't know we needed and affects how we efficiently build our projects."

~Brian Mclaughlin, Time & Materials, Edwards, Mooney, and Moses
Find the Full Case Study Here!
Customers also appreciate seeing third-party reviews of the ECM products and services you offer. Check out these analyst reports and use them to add even more credibility to Digitech Systems' feature functionality.
"Backed by rich experience in data management, Digitech Systems is providing an advanced ECM [Enterprise Content Management] suite that uses RPA [Robotic Process Automation] to manage information securely and intuitively. RPA is a natural progression in their journey toward streamlined content capture, document management, and workflow optimization."


~CIO Applications, 2019
Find the Press Release Here!
"PaperVision® offers an impressive roster of features, from efficient document filing and collaboration capabilities along with powerful data search features for finding stored documents. Also worthy of note is the optional workflow engine, which lets administrators construct quite complex workflows—complete with branching and conditional actions—without coding."


~Buyers Lab, 2019
Find the Press Release and Full Report Here!
Businesses always look for an all-in-one product that will give them a competitive advantage without going to multiple vendors to build an effective information management system. Make sure they know you're selling feature functionality in every offer!
Thank you for staying tuned in with our Big Four series over the last year. We hope you found this overview of our development philosophy to be helpful as you position your* offerings for customers. No matter how fast technology changes, these principles will always set you apart.
If you missed out on the previous newsletters in this series, you can find all of them on MyDSI.